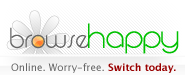 Both are FREE.
Both are FAST! Really, fast.
Why I have switched to Firefox and Opera??? Easy. Even the sidebar on my blog knew better and tried to run away in Internet Explorer. Several times after posting or adding something to the sidebar of my blog, my sidebar simply disappeared to the bottom of the blog in Internet Explore. So, I would spend time trying to figure out why. When I looked at my blog in Firefox or Opera, the sidebar and blog looked great. Why not in Internet Explorer? Are they special? If so, it is not special in a good way and I am a busy Mama. I don't have time to mess around with my blog just so it looks good in one browser. It is the browser that is the problem. Not the Mama!
Download Firefox or Opera today and see for yourself or download both to see which one works best for you.
I have both browsers and will often use them at the same time. I will open Firefox to make a post on my blog using Opera to surf for information for a post.
I use Firefox to post because some functions, like spell check, do not show up in Opera. In my opinion Opera is the best for surfing. I like the ability to keep several windows open at once and just click a button to go to a previous window. It is very user friendly in this sense. Also, in Opera a search can be made by simply highlighting a word and right clicking to select the search engine you would like to use. I love it!
Oftentimes, I find myself with two open windows in Firefox and up to five in Opera.
If the two browsers could be merge into one…that would be the perfect browser!
No need for more.
I never use Internet Explore except for checking that my blog looks o.k. for anyone that is unfortunate enough to not have been told about Firefox or Opera.
My strong suggestion…try at least Firefox. You will never go back to Internet Explore.
Never.
I promise you.
*** To learn about these browsers and other browsers that I did not mention here please click on the browsehappy button.