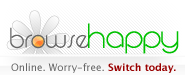 I am back on my soap box in regard to Internet Explorer, yet again.
I have been setting up Alsace Photoblog. I had my template uploaded with my buttons and site counter all set for a few days now. I didn't think to check the blog in IE. The template looked great in Firefox.
Just a few hours ago, I checked out Alsace Photoblog in IE. The template looked like crap. Instead of having the nice brown header, the header was all white. There were no categories or archives showing. I could not see anything that I had added into the template. I could not even sign into the administration side because the login was missing. The only thing showing on the frontpage of the blog was the pictures and the About page link. When I clicked on the About link, all the missing navigation from the front page magically appeared and so did my add ons.
This was the worst IE experience I have had so far. I just can't believe that the whole blogs frontpage was so screwed up in IE only. Like I said, the blog was beautiful in Firefox and in Opera (I checked Opera after I saw it all messed up in IE).
I had to upload a new template after searching for half an hour to find one that I liked. Luckily, I think the new template is nice because it is so light and airy that the pictures are the main focus. Good for a photoblog.
Bad thing is I had already searched for hours to pick out the first template and then had to upload it and tweak it. All for nothing.
I am just pissed that, again, I had to waste time working around IE.
AGAIN and again!
I just wish they would get their act together or better yet…everyone use another browser.
Please, please, please….try another browser. Click on the browsehappy image above and give another browser a shot. It is ridiculous that IE doesn't even try to join the modern world because they think no one will switch.
Switch! Teach them a lesson.
I only use the best if I can especially if it is FREE. IE is not the best browser and there are many other FREE browsers that are much, much better.
Whew. Now, that I have that off my chest I feel much better.